How to Achieve Accurate Water Content Results with Karl Fischer Titration


Bettina Straub-Jubb, Product Manager & Lead Expert for Titration at the life science business of Merck KGaA, Darmstadt, Germany
Transparent and accurate analysis results are an important prerequisite for meeting your customers' quality expectations on products, raw materials and processes. A central analytical parameter is the water content. Water can influence stability, durability, permeability, or consistency of materials, or the energy consumption, yield, and safety in production processes. Therefore, exact water determination is necessary in a wide variety of industries. The Karl Fischer titration method is still the most used, fastest, and most precise method for measuring water content to get accurate, transparent, and comparable results. By watching this presentation, you will learn:
The difference between Volumetry and Coulometry
How to improve your Karl Fischer titration process
The key quality assurance requirement
How to perform an accurate titer determination
Tips to avoid failures
Duration: Approximately 60 mins

The Karl Fischer Oven Method – Step by Step

Michael Margreth, Application Specialist - Karl Fischer Titration and Water Determination, Metrohm
Karl Fischer (KF) titration is a standard method for the water content determination in all types of substances. However, for various reasons, some substances are not suitable for a direct Karl Fischer titration. These reasons include that they undergo side reaction with KF reagents; they contaminate the titration cell and/or the electrodes; the substances are poorly soluble in alcohol; they release their water only slowly; or the water is released at high temperatures only. These problems can be avoided by using the oven method. This makes the KF oven method the perfect solution for the analysis of difficult samples. By watching this presentation, you will learn:
The principle of the oven method
How to properly prepare your titration system with an oven
How to prepare your sample
How to select the optimal oven temperature
After viewing this webinar, you will know how to perform accurate sample measurements using the oven method.
Importance of CRM-grade Karl Fischer Standards for Accurate KF Titration


Shailly Krishna-Rajusth, Product Manager for Physical & Chemical Property Standards at the life science business of Merck KGaA, Darmstadt, Germany
Karl Fischer (KF) titration is one of the most rapid and accurate methods to determine water content in various samples. For accurate KF titration, high quality Certified Reference Materials (CRMs) are essential. In this webinar, we will present key reference material terms, different quality grades of reference materials, and an overview of our portfolio of high-quality CRM-grade KF Standards. By watching this presentation, you will learn:
Key terms: Metrological Traceability, Quality Grades, 17025 & 17034 Accreditation
The importance of using the right quality grade of KF standards for your application
An overview of our unmatched portfolio of KF standards
Duration: Approximately 60 mins

Direct Karl-Fischer Titration or Gas Phase Extraction – A Closer Look


Thomas Hitz, PhD Application Development, Automated Karl-Fischer Titration, Mettler Toledo
In this presentation we will compare the direct addition with the gas phase extraction method. For this purpose, various sample types were analyzed by either direct addition, gas phase extraction, or both. Among the tested sample types are powders, oils, and cannabis flower. We will discuss the challenges that such samples represent and highlight the analytical measures that will ensure to obtain the best results possible. By watching this presentation, you will learn about:
Direct titration vs. gas phase extraction method
Advantages of the Karl Fischer oven method (gas phase extraction)
Application examples: oils / cannabis flower
Validation of Parameters for Karl Fischer Titration


Angela Schwehn, Laboratory Scientist in the R&D Department of the life science business of Merck KGaA, Darmstadt, Germany
Validation of parameters for a Karl Fischer titration method is an essential prerequisite for laboratories. Performance characteristics of the procedure need to meet the requirements for its intended purpose. You will learn typical analytical performance parameters that should be considered in the validation of the Karl Fischer titration procedures. The objective of this session is to present the requirements for a titration process. By watching this presentation, you will learn about:
General aspects of validation
Required validation parameters
How to verify the suitability and accuracy of a titration method
An overview of the parameters described in ICH (International Council for Harmonization) guidance Q2(R1) and USP general chapter <1225> (selectivity, linearity, accuracy & reproducibility)
Duration: Approximately 45 mins

Live Roundtable Expert Discussion
Together with our partners Metrohm and Mettler Toledo, MilliporeSigma will discuss the trends and key aspects of Karl Fischer titration. We will come back on some questions asked during the earlier three webinars, as well as answering new questions during the roundtable discussion.
This live event will be moderated by Separation Science and participants will include Bettina Straub-Jubb, Dr. Shailly Krishna Rajusth, and Angela Schwehn from the life science business of Merck KGaA, Darmstadt, Germany, Dr. Leila Mosberger from Mettler-Toledo, and Michael Margreth from Metrohm AG.




Start Time:
9am BST / 10am CEST / 1.30pm IST / 4pm SGT / 6pm AEST
Bonus Content: Access the FAQS
A PDF copy of the frequently asked questions tha

t emerged during the 'Karl Fischer Titration Week' is also available to download. This download will be included with all on-demand registrations.
Sponsors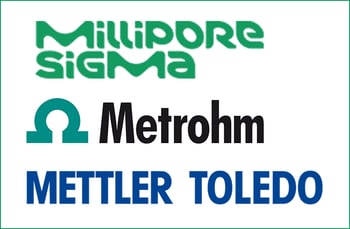 The life science business of Merck KGaA, Darmstadt, Germany operates as MilliporeSigma in the U.S. and Canada.
For further information about our names in the US, Canada and internationally, please refer to our disclaimer at emdgroup.com.
Registrants to the Karl Fischer Titration series of presentations are covered by the Eclipse Business Media Privacy Policy. Information you provide will be shared with the sponsors for this content. Eclipse Business Media Ltd may contact you to offer you content based on your specific interests. You may opt-out at any time.