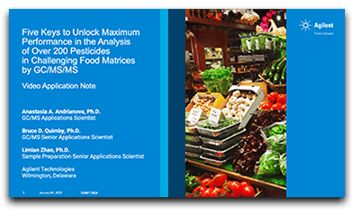 Separation Science, in collaboration with
Agilent, offers a video application, complementary application note and related assets covering five best practices to enhance analytical performance in the analysis of over 200 pesticides in challenging matrices including spinach, walnut, and cayenne pepper.
Format: Video Application
Duration: 20 minutes
Presenter:


Anastasia Andrianova
GC/MS Applications Scientist,
Agilent Technologies
Dr. Anastasia Andrianova is a GC/MS Applications Scientist in the Mass Spectrometry Division of Agilent Technologies, located in Wilmington, Delaware. She is currently working in GC/MS applications in multiple areas including environmental and food safety.

Sponsor: